Killer Klowns From Outer Space (1988)

I felt a strong desire to rewatch this crazy film about alien homicidal clowns. It's a bit Looney Tunes, but in a really creepy way. There's one scene where on the one hand an alien killer clown is holding an enormous hammer behind his back and yet on the other hand he's encouraging a small child to come to him so he can kill her.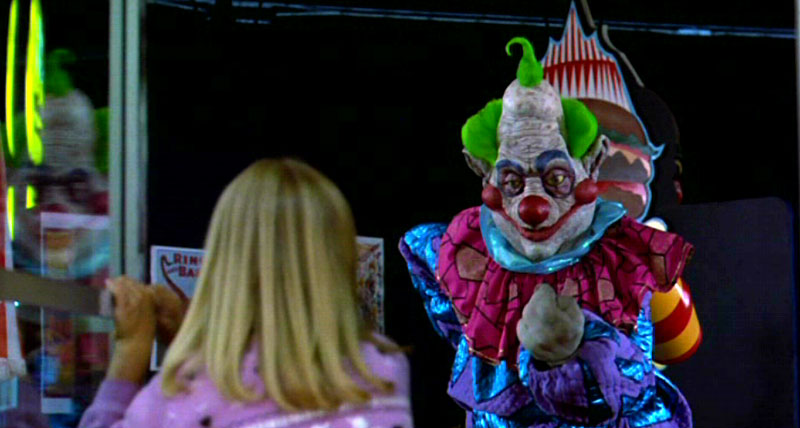 Rather than going into detail about the varied homicidal methods the clowns use, I should instead probably just mention a few of the more repeated aspects and leave the variety of clever effects a surprise. But believe me, there are some very varied ideas here.
( Click here for the full review... )

Killer Klowns is a film I'd seen already, so I'm just going to tag this other film on the end. It's a bit of an awkward one to try to label as sci-fi, but I think it's justified. Let's see...
Society (1989)

Sci-fi isn't entirely about whether the events are happening in the future. It's also about using speculative ideas to say something about the world in which we live. It's all about "what if".

"Society" certainly isn't obviously a sci-fi film. A boy feels alienated from his family and has a strong sense that he doesn't fit in. His parents have lofty ideals for him to live up to, but seem disappointed with his choices. They are also disappointed with his best friend.
On the other hand, his sister seems to be far more accepted, though he feels alienated from her too. The love-hate relationship between them seems to come out as more of an repulsion-attraction relationship. He seems to be dealing with the idea that his sister is a beautiful girl, but also with odd hints that she may be some kind of monster.
( Click here for the full review (nsfw image?)... )