The Best of Men (2012 TV Movie)
Sure, it's a made-for-tv movie and it feels like it. Nevertheless, the performances are so good and everything is just handled so well that I just felt joy from beginning to end. There's not a lot in the way of impressive directorial flourishes, but there is a good story told well and emotionally engaging as all hell.
At the centre of it all is Eddie Marsan playing the true-life figure, Dr. Ludwig Guttmann, a German doctor who is finally allowed to treat spinal patients in Britain during the latter half of World War II. Marsan has a very wide range as an actor, but this is definitely my favourite performance from him so far.
( Click here for the rest of the review... )
Labyrinth (2012 TV Series)
Oh dear me Christopher Smith, what happened?
Christopher Smith has become one of my favourite directors. While there's a decidedly annoying decision for one of the scenes in his first movie "Creep" it was nevertheless a pretty cool debut. He followed it up with "Severance" which I saw in the cinema upon its release. Not realising that it was the same director, nor how great it would be, I missed "Triangle" in cinemas (not least because I thought it was about the Bermuda Triangle - which it isn't). And his latest film "Black Death", with Sean Bean, was one of the better "medieval horror" films of late (others being "Centurion", "Valhalla Rising", "Season of the Witch", "Solomon Kane" and arguably also "13 Assassins").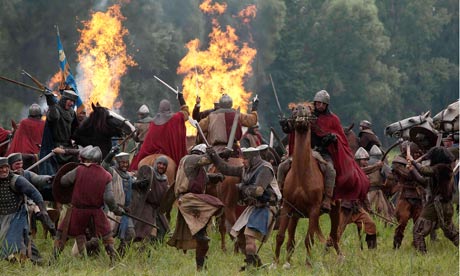 It's been a rather long wait since "Black Death" and it seems that Christopher Smith has tried to transition to tv. (Something it seems that the very similar director Neil Marshall has already successfully managed by directing the excellent 'Blackwater' episode of "Game of Thrones" and starting the series "Black Sails", which I hope will be rather less disappointing than this was.) Unfortunately he seems to have chosen a 'Da Vinci Code' knockoff. I remembered seeing Kate Mosse's book "Labyrinth" in bookshops and I always thought it came before Dan Brown's cheesy bestseller. But it seems I was mistaken.
What's perhaps most annoying of all is that "Labyrinth" is about the massacre of the Cathars in the 13th Century. It's a really interesting historical event to base a drama around. Unfortunately Kate Mosse's book is instead about some kind of mystical books supposedly connected with the Holy Grail. To be frank, I'd rather be watching the bleeding Indiana Jones movie if we are going to go that goofy.
( Click here for the rest of the review... )