For those who missed the first two instalments...
Part one is here!
Part two here!
It's been a long time coming and oddly enough because I needed to rewatch "Ferris Bueller's Day Off" before finishing. Now that is a little strange seeing as "Ferris Bueller's Day Off" was the one film I was sure I loved when I started this, but after seeing John Hughes other films and hating so many of them, it felt tainted somehow. Still, I gave it another watch. I cannot say I was enormously into it this time around, but "Ferris Bueller's Day Off" is still good.
John Hughes' debut movie "Sixteen Candles" on the other hand....
Sixteen Candles (1984)
Ugh, I did not want to write this review.
Basically I was given the impression that John Hughes career was better in the beginning and then became cheesier and more about people being hit in the end in slapstick towards the end. So I worked backwards through his films so I could finish on a high note.
Well that backfired spectacularly. The previous film I checked out was the legedary John Hughes film "The Breakfast Club". I was surprised to find myself hating practically everyone else, particularly the 'hero' of the film, who decides early on to propose a gang-rape.
So imagine my surprise when I discovered that "Sixteen Candles" is even worse.
Anthony Michael Hall who was absolutely great in "Weird Science" and probably the most sympathetic character in "Breakfast Club", this time plays an obnoxious pick-up artist. Now that's sort of okay, because clearly we're supposed to think he's obnoxious and pathetic. Except that he is later given a passed-out girl to molest, is pressured to drive her home while drunk and takes her to his friends house so they can provide photographic proof that he had sex with her. After all that, it seems that the film expects us to find him a sympathetic character because, just like the girl, he cannot remember their evening in the morning.
BTW Caroline (above) is played by Haviland Morris who was Marla in "Gremlins 2: The New Batch". Watch that instead.
Meanwhile there's another guy who actually encourages Anthony Michael Hall to have sex with the passed-out drunk girl in the first place. He boasts that he could easily have his way with passed-out drunk girls, but the only girl who he wants is the protagonist. So he suggests that Anthony Michael Hall take his ex-girlfriend away and have his way with her. This is passed off as romantic.
( Click here for the rest of the review... )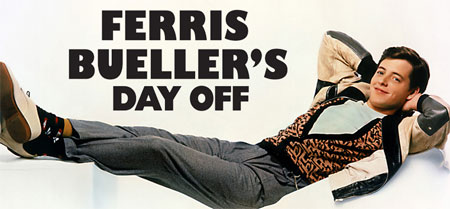 Ferris Bueller's Day Off (1986)
When the John Hughes' retrospective was going down hill, I purposefully left Ferris Bueller's Day Off til the end. Unlike "Weird Science" I'd rewatched it relatively recently and I had still felt very positive towards it.
Sadly, the context of a John Hughes' retrospective rather dampened my excitement this time around. Hughes' filmography features a category of unpleasant protagonists:
( John Hughes' horrible protagonists under the cut... )
So, this is a review of "Ferris Bueller's Day Off", so we better discuss the protagonist here: Ferris Bueller. It should be noted that Ferris Bueller is not a nice guy. He starts off manipulating his parents into letting him stay home and then immediately goes on to manipulate his friend (who may possibly be a hyperchondriac) to help him. Now, I'm not saying that this isn't effective comedy. It is. Ferris Bueller, in spite of being a bit of a prick, is admittedly funny. A great deal is owed to Matthew Broderick for milking as much comedy about of the role as is humanly possible. Similar praise must go to Alan Ruck who plays Ferris's friend Cameron.
What is rather less funny is ANY of the scenes involving the 'evil teacher'. (Thankfully this time the teacher isn't threatening to punch anyone, like in "The Breakfast Club". He's more just an uber-bureaucrat.) He's just not funny. It's like the Ferris Bueller scenes weren't slapsticky enough, so Hughes felt the need to throw it all into the scenes with this guy. The final scene with the teacher getting onto a schoolbus has always fallen flat for me, but it never occurred to me before that this is a point where finally all the humour has to come from this teacher character, the plot surrounding Ferris Bueller having completely come to an end.
( Click here for the rest of the review... )